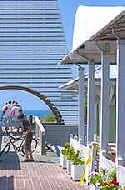 By Cathy Salustri
New Urbanist communities recreate mid-20th century America with every detail so residents can enjoy the quintessential small town. Architects design the towns for walking and biking rather than driving, but nearly 30 years after the New Urbanism movement started communities are experiencing their challenges.
New Urbanism started in Seaside, Florida in 1979 with a goal of reforming real estate development and urban planning. Developments are tightly designed to contain a diverse range of housing, businesses and promote walking. New Urbanites are able to walk to the theater, dentist and grocery store. These foot-friendly small towns have advantages, but they also have their pitfalls.
Walt Disney dreamed of creating a New Urbanist community, and in 1994 the Disney Company offered people a chance to live his dream at Celebration in Orlando, Florida. The community offers Disney's Main Street, USA in a suburban setting and promised a return to a simpler time.
With skyrocketing gas prices these neighborhoods may sound like paradise. With the tree-lined streets, playgrounds, and lack of car exhaust clogging the air who wouldn't want this lifestyle? Who doesn't love the idea of parking their car in a garage tucked away behind the house and walking and biking to run errands? Many people find their paradise in a New Urbanist village. But these communities do have down sides that a prospective homeowner should consider.
1. Size Matters.
New Urbanist homeowners don't just buy their home. They buy a portion of the town. While one person might feel comfortable in a postage stamp sized town, another's idea of "small town living" may mean a village with 5,000 homes. Someone who wants to know all their neighbors will feel right at home at the Village of Ponderosa in Iowa. The Village, still under construction, will have 500 homes on a scant 95 acres. The developer designed the community on the site of a former nine-hole golf course. Disney's Celebration offers a small-town feel in a slightly larger setting, covering 10.7 miles with just over 4000 houses and condominiums.
2. Buy the Steak, not the Sizzle.
The web sites for New Urbanist neighborhoods promise a life filled with scenes straight out of It's a Wonderful Life. The brochures all but guarantee that cherub-faced little girls with strawberry ringlets will sell lemonade for a nickel every summer afternoon, but does that really happen? Of course not. Does it almost happen? Maybe, but check it out before handing over earnest money. Spend some time in the neighborhood before making a deposit. Drive through after school gets out and on Sunday mornings. Better yet, park the car and walk through town.
3. Rules Aren't Made to be Broken
Seaside, Florida resembles a postcard of beach cottages. Although the first homes went up in 1979, the town shows little signs of aging. New Urbanist neighborhoods keep that fresh look thanks to codes and association by-laws. Sometimes the rules intended to maintain a certain standard can get out of control. "Property restrictions can be stifling," according to Chris Meindl, a University of South Florida geographer who has studied the New Urbanist solution, but on the other hand it's nice to have guidelines to make sure a top-of-the-line neighborhood doesn't turn into a slum with old trucks up on blocks.
4. Charm Has a Price
New Urbanist fans brag that rentals, condos and homes come in all price ranges to draw a good mix of families, singles and retirees. But with prices that spiraled to all time records, homes in many of these communities aren't devaluing as rapidly as many other areas. Few have homes under $300,000. In Santa Fe, New Mexico's Oshara Village townhomes sell for $329,000, but elsewhere in the city a three bedroom two-bath standalone home costs much less. Homes on postage stamp sized lots sell for well over $1-million in Seaside, attracting the affluent. The higher price of a New Urbanist neighborhood limits who can afford to live there, diminishing cultural diversity.
5. Failure IS an Option
Some of these developments fail as a result of their restrictions, especially with a sinking economy. Most New Urbanist communities have yet to pass the 10-year mark, and many more haven't yet finished being constructed. Developers boast that residents get to know their neighbors and live within walking distance of things most people in the suburbs have to drive to every day. If no one moves to a neighborhood, however, the stores located just a five minute walk away won't succeed and the people who live there end up making mortgage payments in a ghost town.