Let's take a look at the Arizona housing market and what you can expect from it in the coming year.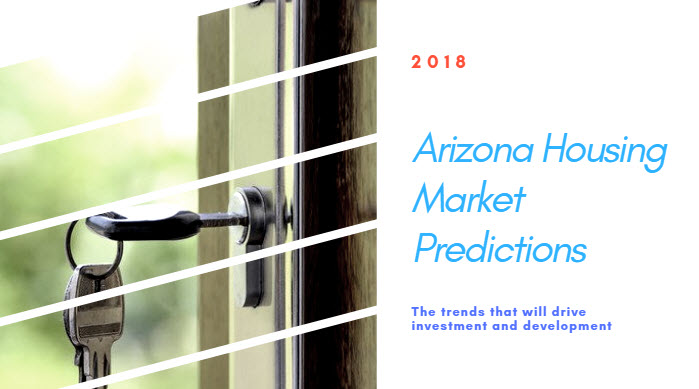 Housing markets can be unpredictable.
One year, it's a buyer's market. The next, it could be a seller's market. One thing that's guaranteed about the property is that nothing is guaranteed.
While you can never definitively know how a housing market is going to go, you can certainly make confident predictions.
Arizona Real Estate Market
In Phoenix, if 2017 is anything to go by, 2018 has a lot to live up to when it comes to the Arizona housing market.
Catherine Reagor of AZ Central explains that 2017 was one of metro Phoenix's best years regarding property and home sales.
The number of homes that were sold and exchanged hands in 2017 was up by an astounding 6 percent in 2017 from 2016. 2011 was the last year that even held a candle to 2017. This means that it's been seven years since Arizona saw such incredible house sale figures in the Phoenix metro area.
To get to peak levels, you have to go back even further than 2011 and 2010 all the way back to 2006. While 2017 is a record year, it still isn't as good as the number of homes being sold in 2006.
So, what should you expect for 2018 in metro Phoenix? Mark Stapp is executive director of the Master of Real Estate Development Program. He believes that 2018 is looking to continue and be much like 2017 was.
However, he goes on to explain that a hike in rates could work against this positive outlook and become a potential setback to the market.
What to Expect in the Arizona Housing Market
Catherine continues by saying that most analysts of housing don't feel comfortable making predictions annually about the housing market – it could all change in a second.
Naturally, nobody wants the finger pointed at them when their prediction is wrong. The national real estate website for Phoenix, Arizona did predict 2017's successes, so this is an example of a projection paying off.
Ruff, a Valley housing market expert, expressed his concern that there's not enough affordable housing which could potentially predict a seller's market. The challenge here is for Arizona to build houses that people can afford. This is because there's no way that the prices can keep climbing, while current affordable homes are low in stock.
Valley housing market expert Tamboer says that she expects a softening of appreciation in 2018. While she does have the belief that house prices could keep climbing this year, she doesn't think the rate at which they do will reflect the past two years.
The area has a lot to live up to. The average house price has to climb by 6 percent just in the next year for the Arizona housing market to fully recover from the crash.
What You Should Know About Arizona Real Estate
Katie Conner of ABC 15 says that experts are predicting a rise in the housing market for Arizona.
Jeff Sibbach of Realty One Group is placing his predictions with an increase in value. He believes that this will be in the form of a steady rise, similar to what occurred in the early 1990's.
The shortage of affordable housing remains an issue in the Arizona housing market. According to Jeff, the supply of affordable housing available is off by about 12 percent.
Because there is a decrease in the supply of house available for purchase, the prediction is confidently a steady rise. It's set to be an up-moving housing market because demand is up by 7 percent also.
While this paints a picture that indicates it's going to be a competitive market, it's also potentially a good time to buy before the market starts to sizzle.
Chandler and Goodyear are two of the most sought-after areas currently in Arizona for a property. This is due to there being a good amount of baby boomers that are looking to downsize and find something to settle into comfortably for the long haul.
Buying Arizona Real Estate
Real estate predictions can be unreliable. One day they can be sure of one thing, then move on to something else the next.
Arizona's housing market has had a good run this past year. There are some interesting factors to consider as you look at the year ahead. Whether you're looking to buy or sell in the Arizona housing market, it's helpful to get a rough idea of what the experts think will happen.
Phoenix Home Costs
Home costs inside the Phoenix land market have risen consistently in the course of recent years, and that pattern is anticipated to proceed through 2019 and into 2020. An absence of stock is one of the principal reasons why home costs are moving in Phoenix.  Per an ongoing estimate from the land research group at Zillow, home costs in Phoenix, Arizona are relied upon to keep moving through the remainder of this current year and into 2020. 
Middle Costs
As of April 2019, the middle home cost for this housing business sector was around $242,000. The middle for the more extensive Phoenix-Mesa-Scottsdale metropolitan territory was generally $266,000, during that equivalent time allotment. Housing costs are influenced by free-market activity-related components. In Phoenix's housing market, it's the supply circumstance that is for the most part in charge of rising home estimations. To put it plainly, there aren't sufficient homes recorded available to be purchased to fulfill a need. 
As per the most recent land industry reports, Phoenix had about a 3.2-month supply of homes available to be purchased as of March 2019. That is a lot beneath the 5-to half-year level that financial analysts consider to be adjusted. From a supply viewpoint, the Phoenix land market still supports venders over purchasers. There are a lot of individuals out there searching for houses to purchase, however insufficient stock to go around. This likewise puts stress on home costs. 
Stocks and Starter Homes
As is frequently the situation, the stock is particularly tight at the lower end of the estimating range. Progressively moderate "starter" homes are hard to find at the present time. This is something Phoenix home purchasers should remember, on the off chance that they're wanting to enter the land showcase soon. In certain urban areas the nation over, home costs have started to back off or even level off as purchasers drawback. In any case, Phoenix is one of those housing markets where costs are relied upon to keep moving for a long time to come. Also, supply deficiencies have a great deal to do with that. 
"The deficiency of starter homes the nation over is at long last beginning to ease, and that is uplifting news for would-be first-time purchasers who have been set aside to make the jump into homeownership," said Skylar Olsen, executive of financial research at Zillow. "Shockingly, costs of homes in the lower third of the market have risen such a great amount lately that for some families' spending limits they never again qualify as reasonable." 
In any case, some real urban areas offer a lot of expects clench hand time home purchasers in 2019. They incorporate Tampa, Las Vegas, Phoenix and Atlanta. See underneath. Phoenix, Arizona was as of late, positioned as one of the main five housing markets for first-time home purchasers. This report additionally originated from the examination bunch at Zillow. 
Tips for First-Time Home Buyers: Arizona Housing Market
The gathering investigated the country's biggest land markets to discover where first-time purchasers have the most obvious opportunity with regards to progress. 
Two or three years back, Phoenix authoritatively turned into the fifth most crowded city in the United States (after New York City, Los Angeles, Chicago, and Houston). The city's population rose by 12.4% from 2010 to 2017, as indicated by Census Bureau figures.  Consistent population development has made more interest for housing in the region, on both the buy and rental side. This thus has supported home costs in Phoenix and furthermore in the encompassing zones. 
Figures for this housing business sector foresee that house estimations will keep on growing into 2020. What's more, population development assumes a major role in that. When you consolidate these two factors (developing urbanization in a region that has restricted housing supply), you have the majority of the elements for proceeded with value development. 
Low Mortgage Rates Could Boost Spring Home-Buying Season 
Nothing rouses home purchasers like low home loan rates. What's more, that is actually what we are seeing at this moment. Home loan rates have been on a descending slide since November of a year ago. This allows home purchasers in Phoenix to secure at a low rate and spare over the long haul. As per the week by week study from Freddie Mac, the normal rate for a 30-year fixed home loan was 4.08% during the primary seven day stretch of April 2019. That normal beat out at almost 5% the previous fall. It has descended a lot from that point forward. 
Be that as it may, there's no telling to what extent home loan rates will stay at their present lows. Home costs in Phoenix, in the meantime, keep on climbing. So those purchasers who delay their buys until some other time in 2019, or 2020, will probably wind up paying more for a house.