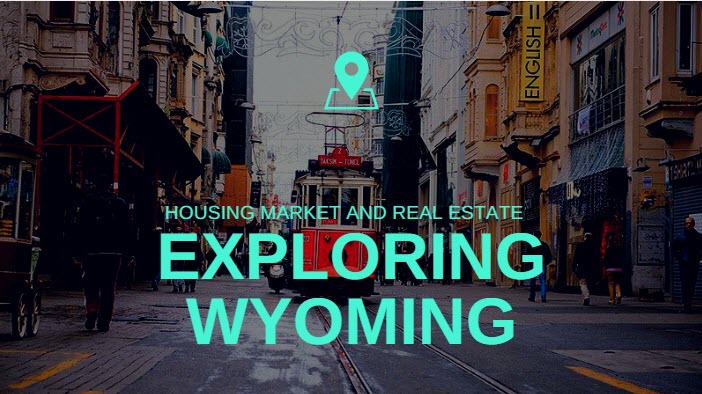 Wyoming is not the most well-known state in the nation, but it is a hidden gem.
Wyoming is officially known as "The Equality State" but has a couple of other unofficial nicknames including the "Cowboy State" and "Big Wyoming" – and the state is big. It is the tenth largest state in terms of area but is also the least populous state and the second least-densely populated state.
The only state that is less densely populated than Wyoming is Alaska. Wyoming's population is 585,501 – about the same population as the city of Albuquerque. You'd be amiss to take the state as insignificant, however.
Wyoming offers loads of natural beauty, a healthy economy, and the Wyoming housing market is booming. Though the state isn't right for everyone, for many it proves to be full of opportunity.
What Is Wyoming's Economy Like?
Wyoming boasts an unemployment rate that aligns fairly closely with the national average. In March 2018, it sits at 3.9% – just a fraction below the national average. The majority of jobs in Wyoming are either for federal or state government or are leisure and hospitality-based jobs.
Because of the sparsity in population in the state, an unemployment rate that compares to a rate that includes some of the largest employment sectors in the nation is a very encouraging sign of a healthy economy.
The Wyoming housing market is similarly strong but has unique qualities from other states.
Home Value
Home prices in Wyoming are around the national average, even in its largest cities. Something unique to Wyoming is the rate at which home values are rising. Other states experience yearly increases of around 3-4 percent, but on average Wyoming is experiencing a one percent annual increase in home value.
You might think this is unsatisfactory – but it actually can be a good sign.
Compare and Contrast This Year's Information to Last Year's Wyoming Real Estate Market
Last year, home values in Wyoming went up one percent. It's expected this year that they will rise about 1.5%.
Despite this, the Wyoming housing market is actually experiencing movement. Less than 8% of listings in the state had to issue a price reduction to sell and most houses sold within 100 days of being listed.
It's also important to note that there has been a recent uptick in home value increase.
In the last quarter of 2017, Wyoming performed quite well against the rest of the nation and experienced a higher property value increase than much of the country.
Houses in Wyoming
Only 1.3% of homeowners in Wyoming are delinquent on their mortgage while the national average for mortgage delinquency is 1.6%. This indicates that the majority of homeowners in Wyoming make adequate wages to make their mortgage payments on time and that home ownership is quite viable.
Most homes in the Wyoming housing market are single-family homes – over 65% of homes – which sets the state apart from other states. This is likely because of the widespread rurality of the state.
Cheyenne is the largest metropolitan area in the state, and the capital city, and is still mostly comprised of single-family detached homes. Cheyenne has a population of 65,000 as of the 2010 census.
Influencing Factors for the 2018 Wyoming Real Estate Market
Unemployment rates will shrink as the nation's rates do as well
Interest rates will increase throughout 2018, so plans to purchase are better executed sooner rather than later.
Wyoming will continue to quite affordable as compared to the rest of the country.
Best Places to Live in Wyoming

Wyoming offers a diverse range of places to live, from small cities to absolute solitude.
Rock Springs
This is one of the absolute best places to live in Wyoming. The area is rich with natural resources that provide jobs. The median home value in Rock Springs is reminiscent of the rest of the Wyoming housing market at $207,000. The average family in Rock Springs earns $70,000 annually. This explains why around 75% of residents own their home.
Something unique to Rock Springs is a low median age. The town is fairly young in comparison with other cities in the state. The median age in Rock Springs is 35. This is likely because the town is home to Western Wyoming Community College – which also provides a steady pipeline of young talent to sustain the city's industries.
South Park
South Park, Wyoming, is ranked as the number one place to live by Niche. The small town, located in Teton county, has a very high property value. The median value of homes in South Park is nearly $800,000, yet over 73 % of the 1,500 residents own their home.
Average income in the city is close to $100,000 annually.
South Park has received an "A" grade on its jobs, family-friendliness, health and fitness and commutability.
There Is a Wide Range of Choices in the Wyoming Housing Market
In the Wyoming Housing market, there is a multitude of options. The industry rich state offers fair wages and low home prices both in metropolitan areas and rural communities.
There really is no going wrong with homeownership in the state of Wyoming.
Other related posts
2016 Wyoming Real Estate and Housing Market Forecast
2015 Wyoming Real Estate and Housing Market Predictions
2014 Wyoming Housing Market