Homeowners forced to walk away from their homes and other mortgage holders who are losing confidence in home prices ever recovering from their slide, contribute to record high foreclosure rates in Utah, which is suffering through the foreclosure crisis despite better employment opportunities in some areas.
Foreclosures and bank assisted short sales of troubled homes make up the highest number of home sales in Salt Lake City as bargain hungry investors and home buyers seek out the best deals. The market soared during the housing bubble and then experienced an upsurge from the federal home buyer tax credit before it expired.
As the state's largest metropolitan area, Salt Lake City has witnessed record growth and more newcomers than any other city other than California cities in the last decade in the west. But high levels of unemployment in the trades and construction are hurting its economy, where things won't improve to any large degree until more people go back to work and others move out of the area. Home sales are projected to remain soft through 2011 on forecast average housing deflation of 4.2% for the year as prices are pulled down by the widespread foreclosure crisis.
| City | Forecast |
| --- | --- |
| Salt Lake City | 4.2% |
| Ogden | -3.8% |
| Logan | -2.1% |
| Provo | -6.3% |
In Ogden the value of homes and other properties are also hurting. The community, however, isn't expected to suffer in its housing market at the extreme others will for years to come since its protected by better employment levels and less economic turmoil. Restrictive mortgage lending
guidelines are making it more difficult for many would be home buyers to obtain financing though, leading to more troubles for the region.
Ogden should see a boost in home sales towards the second half of the year as consumers gain more confidence in the national economy, and is forecast to sustain average home price losses of 3.8% for the year.
Home sales are dropping by a third from last year in Logan, where an over-supply of inventory is hurting the market, but prices aren't declining at nearly as rapid a rate. The fall-out from the foreclosure crisis is less evident in Logan, where home prices didn't climb as much as other places during the bubble. The city is experiencing a much lighter drop as a result and should see just average deflation of 2.1% in 2011.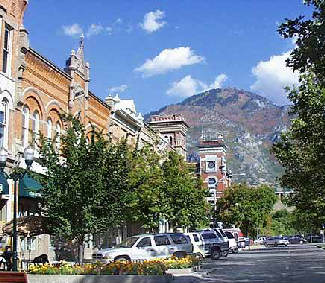 The hard hit economy has sent home prices falling in Provo, the state's third largest metro region with more than 150,000 residents and some of the best white powder snow skiing conditions on the planet. Second home buyers and full-time residents are feeling the pinch, which has made the vacation resort market a buyer's haven for home buyers.
Foreclosures are expected to rise in Provo over the year as homeowners lose confidence in real estate values returning to where they once were in Provo and other areas. The impact of the financial crisis is having a devastating impact on the community, which is forecast to sustain average housing deflation of 6.3% in 2011 as more owners give up hope on the return to higher prices in their lifetimes.