By Mike Colpitts
Bed bug beagles, certified to detect bed bugs infesting homes, apartments and hotel rooms in New York City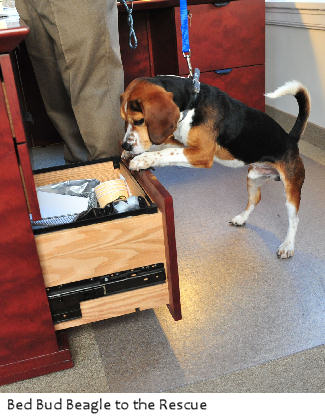 are searching out the pesky bugs known for biting their victims while they sleep between the sheets at night.
Bed Bug Super Dogs is an independent certified bed bug detection service for the real estate industry, and they're being retained by growing numbers of property managers in Manhattan to ferret out the bugs before they become a problem for tenants and hotel guests.
"The bed bug pandemic and these new regulations create a significant financial burden on property owners," said Bed Bug Super Dogs CEO David Baer. "Inaccurate inspections could cost property owners enormous amounts of money."
The inspection program, designed to find the presence of bed bugs in residential units was launched in response to new regulations that require property owners to inspect residential units that surround an affected apartment. The break out of bed bugs became critical last summer in New York City as residents complaints grew louder as summer heat provided perfect conditions for the bugs to multiply rapidly.
"Owners should never hire an inspection company that also provides extermination services, as this can create a direct conflict of interest and an incentive to find bed bugs," said Baer, whose company only searches for the bugs with their trusty beagles especially trained to search for the bugs.
A containment inspection program offered by the firm is part of a series of programs designed for owners and managers of commercial, hotel, residential and retail properties seeking to prevent the spread of bed bugs, reduce extermination costs and limit liability.
Bed Bugs Super Dogs inspection programs increase owners' ability to identify the source of an infestation, manage remediation and provide a professional response if required in a dispute.