By Kevin Chiu
As Hurricane Irene moved over the border into Canada, after having unleashed its mighty torrent on the Atlantic coast over a dozen states,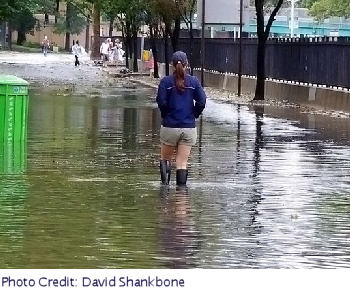 flooding became its dominant issue as forecasters predicted. Torrential rains in more than a half a dozen states are expected to bring upwards of a million home insurance claims.
But many homeowners are expected to soon learn that flooding damage left in the storm's wake won't be covered by their standard insurance policies. More than 25 persons were left dead and another 4.5 million residents without power.
New Yorkers experienced flooding in their homes, but not as many as expected. In New Jersey hundreds of homes were inundated by floodwaters, and as far north as Vermont drenching rains poured into rivers that ran downstream to cause the worst flash flooding in decades.
Flooding to homes and businesses not usually associated with hurricane damage, however, won't be covered by regular insurance coverage for many property owners in cases where homeowners don't have separate flood insurance. Coming to grips with the sheer magnitude of the catastrophe won't be easy for many homeowners, who face damage to more homes than in previous hurricanes.
Towns along Jersey Shore are grappling to deal with the reality of the flooding and damage left in Hurricane Irene's wake. "This is the worst flood we have seen in the township since 1977," said Ron Witte, New Egypt Township's Office of Emergency Management deputy director.
A nearby bridge connecting the Jersey Shore community to the main thoroughfare had been washed out, and the town center is closed due to flooding. Homes built outside of the Federal Emergency Management Agency's (FEMA) designated flood zones aren't required to carry federal flood insurance, and the over-whelming majority of homeowners don't want to pay for any additional insurance they are unlikely to ever use.
As a result, many homeowners located outside of the designated areas won't be covered by their insurance policies for damages due to flooding. Standard insurance policies also don't usually cover hurricane damage, but coverages do vary depending upon individual policies.
CoreLogic released an estimate on the damage hurricane storm surge would cause to 10 major metropolitan cities along the Atlantic and Gulf coastlines earlier this summer, estimating home losses alone would exceed $300 billion.
An estimate by Georgia based Kinetic Analysis Corp. forecasts losses from Irene to be at $7 billion, with insured losses of just $2 to $3 billion.