By Mike Colpitts
Academy award winning super-star Robert De Niro, who has played a financial mobster in the movies perhaps more than any other actor is
putting his Manhattan home up for sale after nearly four decades. The New York native didn't make the decision to place his townhouse on the market lightly. De Niro loves his native New York.
The award winning actor, who won the Academy Award for Best Supporting Actor for his portrayal of a mobster in The Godfather, Part II has listed his place for sale for a cool $14 million. There's a ton of profit to be made by the actor, who bought the place in 1975.
The Italianate home built in 1852 features 5 stories with five bedrooms, 3 1/2 bathrooms and is a spacious 4,158 square feet with 12 foot ceilings plus a seculded private garden and is listed by his son, Raphael De Niro.
It's located on one of the West Village's most acclaimed and coveted blocks, between Hudson Street and Seventh Avenue across the street from J. Walker Park, incidentally the setting for a scene in "Raging Bull" in which the character Jake LaMotta was played by De Niro. The exterior of the townhouse just four doors down from De Niro was featured as the Huxtable family's residence on the famous eighties sitcom "The Cosby Show."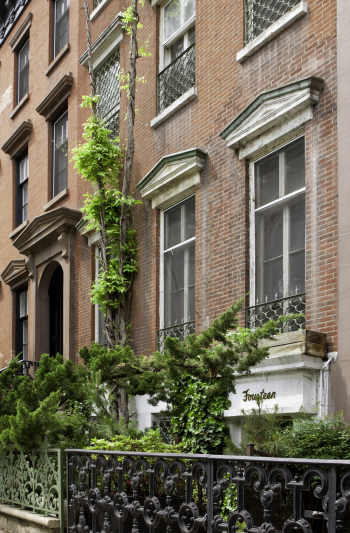 During the 1920's the townhouse was the residence of poet Marianne Moore and the street is lined with mansions that have housed a series of famous people over the years: former New York City Mayor Jimmy Walker, painters Paul Cadmus and Jared French and journalist Linda Ellerbee, among them.
The "A list star" shouldn't have too hard a time finding a buyer for his home, although he may have to come down a bit on the price, which even by Manhattan standards is on the high-end.
The average listing price for a home in New York City is $1.9-million. Homes are sold in the Big Apple much higher than most other cities mainly because of the rich financial sector, which artificially drives the prices on homes, condos and flats higher than other areas because of the high bonuses paid on Wall Street.
When the stock market crashed in 1929 home prices came tumbling down with the crash and didn't recover for decades. Maybe De Niro has some inside track on what's going to happen in financials with the friends he's made over the years from the mobsters he's played in the movies.