Like suffering through a painful New Year's hangover, California is slumbering through the fallout of the real estate crash after twin tax credits artificially boosted its housing market only to return to a slowdown.
As the world's sixth largest economy on its own, California isn't exactly falling into economic ruin, but it isn't making headway into an economic recovery either. The housing market is still pained by a foreclosure crisis that leads the nation in terms of the sheer volume of foreclosed properties and bank assisted short sales.
Home sales improved from the federal and state tax credits, which offered a combined credit of $18,000 but then slowed after the programs ran their course.
In San Jose, which encompasses hard hit high-tech Silicon Valley the market is transfixed on discount deals as high-tech titans desert commercial dwellings in unprecedented order. Lay-offs in the computer industry, real estate, and financial services lead the highest unemployment numbers in the region's history.
The lack of wherewithal to purchase homes is hurting the economy even with near record low mortgage rates. Home sales in San Jose and adjacent Santa Clara are projected to remain soft through 2011 on average housing deflation of 4.1%.
In San Francisco the boost in home sales will be short lived as another round of declining sales hits the city that sparkles like a jewel.
Home values are projected to be weakened by lack of consumer confidence with forecast deflation of
4.6% for the year. In the east bay, Oakland will adjust to similar consequences with declining home prices that are forecast to average 5.0% in 2011.
The state capital of Sacramento should see improving conditions towards the middle of the year with more home sales as the area adjusts to the new economy with less bank lending and higher levels of joblessness. Any sort of stabilization for the market will take at least another year to develop with home prices forecast to decline a modest 2.8% in 2011.
Near record high unemployment is hurting the Fresno economy and housing market, which has seen some of the highest numbers of foreclosed properties in the Central Valley. Slashed home prices on bank owned properties are adding a surplus inventory of homes that are holding the market back from recovering. Fresno home prices are forecast to drop an additional 4.7% on average during the year.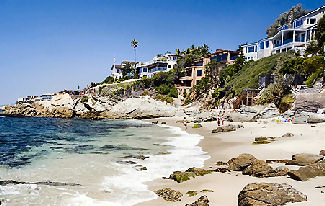 In Southern California markets are suffering from a sort of real estate paralysis as consumers grow increasingly weary over the market. Home sales in Los Angeles and from Glendale to Calabasas are sluggish as double-digit unemployment troubles the region.
The artificial sugar-high that boosted home sales with tax credits hasn't transitioned into any permanent sort of change. The road to a recovery in housing has proven to be a long one as forecast by Housing Predictor. Home prices in most of the Los Angeles region are forecast to sustain average losses of 5.4% in 2011. Pricier areas like Beverly Hills, Laguna, along the PCH (Pacific Coast Highway ) and Bellaire should expect steeper declines.
Tight mortgage lending criteria and record foreclosure sales are troubling Orange County, one of the state's most prominent counties in terms of home values and the residence of Mickey Mouse. But there's no frolicking about the troubled housing market, where home sales picked-up because of the federal incentive only to return to previously sluggish levels. Orange County is projected to experience a slowdown that will last most of the year in 2011 and sustain average home price losses of 4.3% as the double-dip in housing slumbers into Southern California.
Riverside and San Bernardino counties, which help compose the Inland Empire, will see more drastic declines as sales slow amid a tough lending environment. Home values are forecast to fall 5.5% in the region, long recognized for being one of the hardest hit foreclosure centers in the nation.
Like many other Southland locales San Diego saw home sales shoot up, but rigid requirements for home mortgages quelled the market even as home values moved higher. The refinancing boom helped many homeowners, who were able to hold on to their homes for the long haul. San Diego average home prices are forecast to decline 3.8% in 2011.