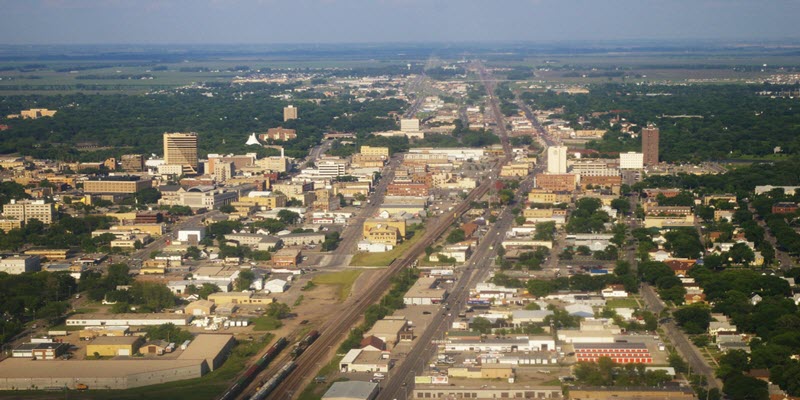 North Dakota is the 19th largest state and has a landscape mainly covered in the great plains. Such a large state is sure to have a lot of homes, and the North Dakota housing market should be a rich one. However, with so much wilderness you can expect most of them to either be on farmland or in metropolitan areas. If agriculture is the name of your game, farms and ranches will be a home shopping pleasure for you in this area.
The 2017 North Dakota Housing market started by hitting record highs, which often offers a good outlook for the following year. Another seller's market, according to Realtor.com, the median closing cost of a home in this state outweighs the median listing price by $61,000. That's a lot of extra bids on a house. We predict that this trend in the difference between the listing price and the price a home goes for will continue through the middle of 2018 and then begin to taper off later in the year.
To understand the housing market in any state, it helps to get a deeper look at what influences trends so that you can determine what will happen next.
Influencing Factors for the 2018 North Dakota Housing Market

Unemployment rate information can help determine whether or not people will be able to afford to buy homes, or if people may be on the verge of foreclosure. North Dakota's current unemployment rate is 3.4, which is one whole point below the national average. While this wasn't a significant change from their previous year, it does have a good outlook on the housing market.
 When we last reported on North Dakota the population, in 2016, was around 672,591. In those two years, the state has seen a population growth of more than 82,000 people. This rich market is sure to attract more people through 2018, and we predict another 1.5 percent increase this year.
 Current median home prices in North Dakota list at $165,000, but the median closing price is at $226,000, according to the same report from Realtor.com already mentioned. We predict that this range will become less as the year progresses.
 Rental property vacancies are at an all-time high right now in the North Dakota housing market, at 16.7 percent according to FRED. While it's difficult to find updated data on current rental costs in North Dakota, it seems that on average people are paying around 35 percent of their income on rent. This trend can be expected to stay the same.
 The Mortgage Reports points out that the early mortgage rate forecasts for 2018 came to fruition already. The U.S. can expect to see those rates shoot up at least another 1 percent for the year, while they are still low compared to some rates in the history of this area.
Top Three Places to Live in North Dakota
Niche.com has a system for calculating the best schools, the best places to live, and more. Their list has helped us update our own when it comes to the North Dakota housing market and the best places to live in North Dakota.
Fargo
Rated as the best by the site listed about, Fargo is popular due to both a movie and a television series named for this largest city in the state. Home to North Dakota State University, the North Dakota housing market in Fargo offers housing for students, but also a plethora of homes just waiting for purchase. Fargo home prices, per Zillow's reports, put median home prices at $217,700. While this is a little bit down from the previous year, we expect it to go up at least a few percentage marks by the end of 2018.
Grand Forks
Grand Forks offers another excellent place to live. It is the third largest city in the state, with a population of approximately 52,838 residents. Another place perfect for families and college goers, Grand Forks is home to the University of North Dakota. With an Air Force Base in the area, the military is one of the biggest employment markets in this area. There have been no changes in the housing market in Grand Forks over the past year, and we don't predict much of a change for the new year. You can expect homes to stay around $120 per square foot for 2018.
Bismarck
Bismarck is the state's capital.  As the second largest city in the state, it offers a lot to the people that opt to live there. Zillow lists the median value of homes in Bismarck at $262,000, which is a .6 percent decline since early 2017. Foreclosure rates remain low in this area and will stay that way. However, you can expect the average home price to increase, though less than 1 percent over 2018.