By Mike Colpitts
Mortgage rates fell to new record lows as growing concerns over the U.S. unemployment rate and lower Treasury bond yields drove
rates lower, according to Freddie Mac. Rates on all sorts of mortgages, including fixed and adjustables reached record levels.
The benchmark 30-year fixed rate loan hit an average of 4.12%, down from its all-time record low of 4.15% achieved last month. The mortgage averaged 4.22% a week ago. The fixed 15-year mortgage also dropped, averaging 3.33% from 3.39% last week.
The 5-year adjustable rate mortgage averaged 2.96%, equaling the same rate it reached last week. But the 1-year ARM slammed to 2.84% from 2.89% a week earlier. Rates on home mortgages have been bouncing back and fourth over the past few weeks after hitting 4.15% on the 30-year fixed loan.
The lowest loan rates on mortgages were at least partially driven lower by U.S. Treasury bond yields, which hit 1.98% on the 10-year bond Wednesday as economic uncertainty drives financial markets and European debt worries trouble the financials.
"Market concerns over Eurozone sovereign debt default and a weak U.S. employment report for August placed downward pressure on Treasury bond yields and allowed fixed mortgage rates to hit new lows this week." said Freddie Mac chief economist Frank Nothaft.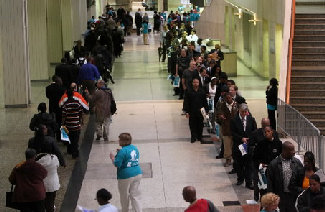 "The economy added no new jobs last month and was the weakest reading since September 2010. Meanwhile, the unemployment rate remained at 9.1%, marking its 31st consecutive month of being above 8%, the longest such stretch in 70 years."
Dismal job reports have been driving interest rates lower along with growing concerns of prolonged economic malaise with yields on Treasury bonds reaching into record-low territory. Interest rates and yields on mortgage backed bonds are closely related to yields on 10 year Treasury notes.
The last time mortgage rates were above 6% was in November of 2008 . The Federal Reserve may introduce additional measures to reduce interest rates further in efforts to stimulate home buying and re-energize refinancing activity to higher levels.