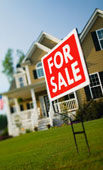 Home values are falling, and in the majority of the U.S. they are dropping at an unprecedented rate of deflation.
The weak economy racked by increasing job losses, growing financial turmoil and record all-time foreclosures are damaging home prices at the fastest rate in modern times. The unprecedented fall in home values has escalated, and is now forecast to deflate average home values 14.5% in 2009 up nearly two full percentage points from Housing Predictor's first forecast for the year.
The figure includes the more than 250 local markets Housing Predictor independently forecasts in all 50 states. Some markets, particularly metropolitan areas that inflated at the fastest rates will deflate more than double the average during the year. Others in slower-paced markets that did not experience double digit inflation are forecast to deflate less.
Despite the increasing number of home sales in some areas, particularly California and Florida, two of the hardest hit states are still see housing deflation, which is forecast to continue through at least the end of the year. The fall out from the financial crisis is making it more difficult for many perspective home buyers to obtain mortgages.
The Fed, Treasury Department and the White House are working to re-energize the money markets. Efforts are being made to buy-up so-called "toxic assets," which amount to mortgages that have gone bad. The key to stabilizing the overall nation's economy is getting control of the foreclosure epidemic, which Housing Predictor forecasts will top 7.6-million properties by the end of 2010.
Failures by the Bush Administration and Congress to deal with the nation's foreclosure epidemic has led to worsening economic conditions, which has taken the economy into a spiral of deflation, according to real estate analysts. Housing Predictor forecasted the foreclosure epidemic and the national real estate depression more than three years ago.
When the forecasts were first issued few apparently understood the magnitude the foreclosure crisis would have on the overall economy, but now it's daily news. For each foreclosure the nation's economy is damaged an average of $225,000 since the average home mortgage made during the height of the real estate boom averaged about that much.
Search Foreclosure Listings and Save BIG