By Mike Colpitts
Legal foreclosure filings, including default notices, bank repossessions and scheduled auctions fell for the tenth straight month in July, but
the market showed a major difference in the type of slowdown, according to Realty Trac. The string of declines was initially caused by the robo signing scandal, but the downturn has transformed into a real fall in foreclosures.
Some 212,764 U.S. residential properties had some form of foreclosure filings during the month, which represented a 4% decline for July and a 35% fall from a year ago last July.
Lenders also repossessed 1% fewer homes during the month, taking back 67,829 properties nationwide. The fall off also represented a 37% drop from one year ago. Foreclosure auctions, the last step in the painful foreclosure process for homeowners were also scheduled on 5% fewer properties for the month. July's auction total hit a 3-year low and was nearly half (46%) below the peak in March 2010.
"It appears that the foreclosure processing delays, combined with the smorgasbord of national and state-level foreclosure prevention efforts, including loan modifications, lender-borrower mediations and mortgage payment assistance for the unemployed may be allowing more distressed homeowners to stave off foreclosure," said RealtyTrac CEO James Saccacio.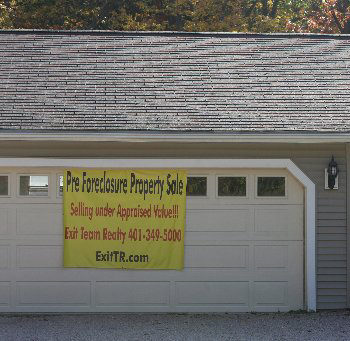 However, the fall in foreclosures appears to be based on short term interventions and delays, many of which are legal that may act to only delay a recovery in the housing market for a longer period. Higher employment levels and a more stabilized economy will usher in a real long term recovery for the housing market.
An estimated 4-million vacant homes not yet accounted for by lenders make up a massive inventory of residential properties, about 2.2-million of which are in default and have not yet been formally foreclosed known as the "shadow inventory" trouble the marketplace.
Ten states accounted for more than 70% of all foreclosure filings, led by the most populated, California, where 56,193 homes had foreclosure filings for the month. Florida saw the second highest number of filings with 22,377 properties, a 57% fall from a year ago. Initial notices of default were down but auctions were up 8% from June.
Nevada , however, claimed the nation's highest foreclosure rate for the 55 th straight month, proving once again that aggressive subprime and ALT-A mortgages handed out to anyone can ruin any real estate market. Despite a 16% fall in foreclosure activity for the year, California recorded the country's second highest state foreclosure rate for the month. Arizona was third. States with foreclosure rates among the top 10 included Georgia, Utah, Florida, Michigan, Idaho, Illinois and Wisconsin.